Meet The Team
Whether you need to dispose of garden waste or get a thorough building clearance, we are just a phone call away.
Evergreen Waste Management is a waste management company based in Brighton and Hove, founded in 2021 by Remzi and Kurt. The company has quickly established itself as one of the best waste management companies in the region, providing high-quality services to its clients.
Remzi and Kurt are experienced professionals who bring a wealth of knowledge and expertise to the company. They are both passionate about environmental sustainability and are committed to making a positive impact in their community.
The team at Evergreen Waste Management is made up of dedicated and skilled professionals who are committed to providing their clients with top-notch waste management solutions. They offer a wide range of services, including waste collection, recycling, and disposal.
The company's commitment to environmental sustainability is evident in their use of eco-friendly practices and materials. They strive to minimize waste and reduce the impact of their operations on the environment.
At Evergreen Waste Management, customer satisfaction is their top priority. They work closely with their clients to understand their needs and provide tailored solutions that meet their specific requirements. Their professionalism, attention to detail, and commitment to quality have earned them a reputation as one of the best waste management companies in Brighton and Hove.
Overall, the Evergreen Waste Management team is a group of dedicated professionals who are committed to providing high-quality waste management solutions while promoting environmental sustainability. With Remzi and Kurt at the helm, the company is poised for continued success and growth in the years to come.
Meet the team –
Remzi
What do you get when you apply the discipline of a martial arts background to an eco friendly professional clearance business?
Remzi is a highly skilled and experienced Black Belt Karate instructor with over 30+ years of experience in the martial arts industry. He has trained countless individuals, young and old, in the art of self-defence, discipline, and mental toughness. His passion for teaching and his dedication to his craft have earned him a reputation as one of the best instructors in his field.
But Remzi's skills and expertise extend beyond the world of martial arts. In recent years, he has shifted his focus to a new challenge: waste management. Along with his business partner Kurt, Remzi is the co-founder of Evergreen Waste Management, a company that provides innovative waste management solutions to businesses and communities.
At first glance, it may seem like an unlikely transition from karate to waste management. But Remzi's experience in the martial arts industry has proven to be a valuable asset in his new venture. The same skills that he honed as a martial arts instructor, such as discipline, focus, and problem-solving, have served him well in the waste management industry.
For example, in martial arts, Remzi often had to adapt his teaching style to meet the unique needs of each student. Similarly, in waste management, he and Kurt have had to develop customized solutions for each of their clients based on their specific needs and circumstances. Remzi's ability to think outside the box and find creative solutions to complex problems has been invaluable in this regard.
Moreover, Remzi's expertise in training individuals has helped him and Kurt build a strong team at Evergreen Waste Management. Just as he trained his martial arts students to work together as a team, he has instilled a sense of teamwork and collaboration among his employees. This has allowed the company to achieve greater efficiency and effectiveness in their waste management solutions.
In short, Remzi's experience as a Black Belt Karate instructor has proven to be a valuable asset in his new venture as a co-founder of Evergreen Waste Management. Through his discipline, problem-solving skills, and ability to work as a team, Remzi has been able to successfully transfer his skills from one
Meet the team –
Kurt
As a creative and passionate chef, Kurt knew how to lead a team of people to deliver quality of service to his customers. Thats a skill he now brings to Evergreen.
Kurt has spent over 20+ years in the hospitality industry as a chef, honing his skills in the kitchen and perfecting the art of creating delicious and visually appealing dishes. Throughout his career, he has worked in a variety of establishments, from fine-dining restaurants to large & prestigious Hotels and catering companies, and has always been passionate about delivering exceptional service to his customers.
Despite his success in the culinary world, Kurt eventually began to feel a pull towards a different type of business – one that focused on sustainability and environmental responsibility. This led him to start Evergreen Waste Management with Remzi, a company dedicated to helping the local community reduce their waste and carbon footprint.
At first glance, it may seem like a strange transition from chef to waste management expert, but Kurt has been able to transfer many of his skills and experiences from his previous career to his new venture. For one thing, both industries require a high level of attention to detail and the ability to adapt to changing circumstances. In the kitchen, Kurt was always thinking on his feet and adjusting recipes and processes as needed to ensure that every dish was perfect. Similarly, in waste management, he is constantly looking for new ways to improve his clients' sustainability practices and reduce their environmental impact.
Additionally, Kurt's experience in the hospitality industry has given him a unique perspective on the importance of customer service. He knows that his clients rely on him to provide reliable and efficient waste management services, and he takes that responsibility seriously. Just as he would go above and beyond to ensure that his restaurant guests were happy and satisfied, he now works tirelessly to meet the needs of his clients.
In the end, Kurt's decision to start Evergreen Waste Management was a natural progression of his passion for sustainability and his commitment to providing excellent service. By combining his expertise in the hospitality industry with his dedication to environmental responsibility, he has created a successful business that is making a real difference in the South East.
Evergreen Waste Management Strives To Recycle 100% Of Their Waste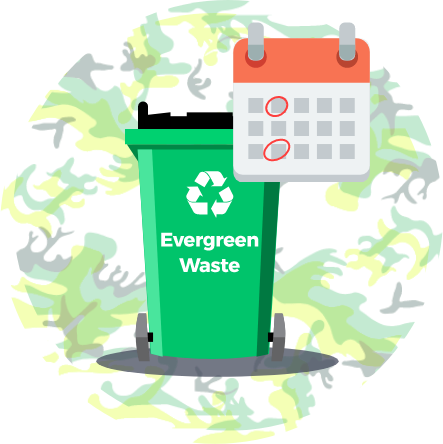 Need a regular collection?
Use our calculator to find out how much it costs to remove your waste regular.
Contact Evergreen Waste
Call us or Fill Out the form bellow and we can quote you.
In most cases we will ask you to provide us with a photo of your waste and will always endevour to provide you an accurate quote in advance.
Larger loads may require a site visit.
"*" indicates required fields